Best Doctor of Chiropractic on the Eastern shore
Dr. Daniel Lane is beyond humbled and thankful to have been voted as the best Doctor of Chiropractic on the Eastern Shore, and that Delmarva Chiropractic was simultaneously voted the best clinic in the Metropolitan Magazine's new BEST IN HEALTHCARE competition, as voted by its readers. Thank you to all that took the time to vote, and to my dear patients and colleagues - the trust bestowed in our care, and the opportunity to serve is both the highest honor, and rewarding beyond measure. From the bottom of my hearts, thank you!!

Introducing the Class IV therapeutic LASER by Lite Cure Healing at the speed of light....................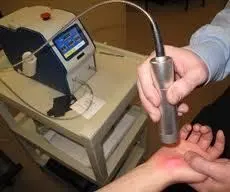 Soft Tissue Laser Therapy is an FDA cleared modality that reduces inflammation, promotes healing and ultimately results in pain reduction. Laser Therapy is effective in treating acute pain, chronic conditions and post-op pain.
The LiteCure LCT-1000 works by flooding the tissue with light photons of a specific wavelength, which research shows to energize cells resulting in increased circulation to the injured area.
Laser therapy treatment is safe, painless and fast. Deep Tissue Laser Therapy treatments are administered in 5 to 10 minutes with most patients seeing results within 3 to 5 treatments.
Deep Tissue Laser Therapy utilizes your body's own recuperative abilities by stimulating increased cellular activity, inducing a series of healing responses in the injured tissues. During treatment you will feel a soothing warmth that identifies the beginning of an 18-24 hour process of modulated cellular activity leading to decreased pain and inflammation and increased range of motion.
Despite fast treatment times, laser therapy treatments initiate a healing process that continues to actively reduce the inflammatory process for up 24 hours post treatment.
LiteCure Medical is the preferred brand of professional athletic trainers and is a clinically proven modality. LiteCure Medical is the leader in scientific research and education.
LiteCure Medical lasers are cleared by the FDA and adhere to strict ISO standards in order to provide you with the safest non-invasive treatment option on the market. Laser therapy provides you with a safe and effective alternative to drugs and surgery.
Watch video http://www.youtube.com/watch?v=lOBNnAogh_g&feature=player_embedded

Sports Chiropractic
Come in to Delmarva Chiropractic for all of your sports/extra-spinal joint problems. Both Doctor Lane and Doctor Brown are board certified specialists in this area, and can address your health care needs in ways you never imagined; scar tissue releases, myofascial taping, biomechanical restoration and chain/train system normalization along with Active Release Technique, Graston and all other aspects of sports medicine/healthcare.

Orthotics
Delmarva Chiropractic is pleased to announce our new Functional Orthotics for patients! Ask the doctors to explain how these orthotics address proper foot function and correct various pathologies rather than reinforcing them with conventional accomodative orthotics found in all other clinics and/or shoe stores. As the sole practitioners of this unique service, come in and ask the doctors how functional orthotics can help reduce and stabilize many of your musculoskeletal complaints!

Graston Technique
Delmarva Chiropractic is pleased to announce the use and certification of The Graston Technique®. As one of the only Graston providers on the Eastern Shore, Delmarva Chiropractic helps patients achieve unparalleled recovery in their health conditions, and once again reflects the superior quality of care and unrivalled qualifications of the providers. See the literature below for more information on the technique, and a link to their official website.
The Graston Technique®, originally developed by athletes, is changing the way clinicians - including athletic trainers, chiropractors, physical therapists, occupational therapists - and patients view treatment of acute and chronic soft tissue injuries.
Graston Technique® is an innovative, patented form of instrument-assisted soft tissue mobilization that enables clinicians to effectively break down scar tissue and fascial restrictions. The Technique utilizes specially designed stainless steel instruments to specifically detect and effectively treat areas exhibiting soft tissue fibrosis or chronic inflammation.

Graston Technique® offers many advantages and benefits.
For the clinician:
Provides improved diagnostic treatment
Detects major and minor fibrotic changes
Reduces manual stress; provides hand and joint conservation
Increases patient satisfaction by achieving notably better outcomes
Expands business and revenue opportunities

For the patient:
Decreases overall time of treatment
Fosters faster rehabilitation/recovery
Reduces need for anti-inflammatory medication
Resolves chronic conditions thought to be permanent

For employers and the healthcare industry:
Allows patients to remain on the job
Reduces the need for splints, braces and job-site modifications
Contributes to reduction of labor and healthcare costs, direct and indirect
See what experts and researchers have to say about the Graston Technique®
"The Graston Technique® Instruments allow a deeper, more sensitive palpation and treatment of fibrotic restricted tissue."
-Warren I. Hammer, MS, DC, DABCO

Six stainless steel instruments form the cornerstone of Graston Technique®
The curvilinear edge of the patented Graston Technique® Instruments combines with their concave/convex shapes to mold the instruments to various contours of the body. This design allows for ease of treatment, minimal stress to the clinician's hands, and maximum tissue penetration.
The Graston Technique® Instruments, much like a tuning fork, resonate in the clinician's hands allowing the clinician to isolate adhesions and restrictions, and treat them very precisely. Since the metal surface of the instruments does not compress as do the fat pads of the finger, deeper restrictions can be accessed and treated. When explaining the properties of the instruments, we often use the analogy of a stethoscope. Just as a stethoscope amplifies what the human ear can hear, so do the instruments increase significantly what the human hands can feel.